Welcome to your German course for veterinarians
German classes designed by vets for vets - now online!
Perform perfect dialogues in german
Our online language school will further your career
Our Deutschkurs für Tierärzte is an online language course designed for veterinarians from all over the world. In five to six modules you are going to learn discipline-specific vocabulary and common expressions to communicate with pet owners and colleagues in no time. And the best part: you can do it at home in your own pace for maximal flexibility!
International veterinarians with outstanding expertise are highly sought after in veterinary practices and clinics. However, good German skills are needed to confidently impart one's knowledge and give proper instructions in emergency situations.
"For your profession, language is the most important tool for building trust with patient owners and increasing your standing in the college."
... a unique opportunity to experience the conditions in German veterinary practices...
This unique language course offer from Vetion.de is tailor-made for international veterinarians who are interested in challenging jobs in Germany, Austria and Switzerland. It's a pleasure to playfully approach the very attractive German-speaking job market in this way - and to easily get into conversations with the colleagues working there.
Since I have already realized many interesting projects with Vetion.de - such as the Digital OR Book and numerous online training courses on Myvetlearn.de -, I was naturally thrilled to be a part of this project. All the more so because this helps individual colleagues to gain a professional foothold in Germany. But also to motivate interested colleagues to work as veterinarians in Germany.
Language is the key to social participation and communication is the essential element in every human community. I participate in this project to help people with a good education, but who do not speak our language very well, so that they are able to work in their profession here as well. My career choice back then was also influenced by the fact that I could eventually work anywhere else in the world - and language was a very important factor in this consideration.
Try out our test module now and see for yourself!
Trust our many years of experience
More than 20 years ago we at Vetion.de together with our partner "Akademie für Tierärztliche Weiterbildung (ATF)" laid the foundation for online training courses for veterinarians in Germany. We strive to continuously expand and optimize our services. To this very day we are leading providers of innovative E-learning solutions – you can trust our many years of experience!
In the already established project "Support4Vetmed" we help you with the recognition of your license to practice veterinary medicine in Germany.
Now we would like to support veterinarians of international origin in learning valuable German language skills for reliable and trustworthy communication in order to significantly improve the career opportunities of our colleagues.
To achieve this goal, we build up the Deutschkurs für Tierärzte with many great partners:
Our qualified native German teachers have more than 25 years of experience in online teaching with a focus on medical disciplines and will provide you with professional support for any questions you may have.
Meanwhile, Dr. med. vet. Fabian von Manteuffel - known from TV and social media - and Prof. Dr. med. vet. Stephan Neumann captured everyday life in the veterinary practice to offer you numerous video clips with examples of successful conversation with pet owners and colleagues in German.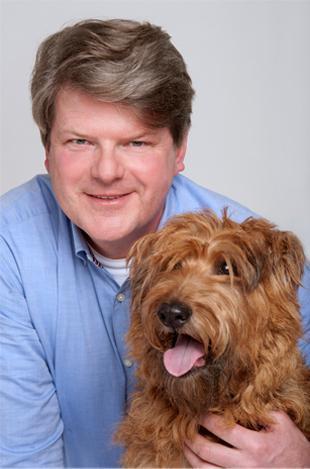 I was born in Hamburg and grew up in a small village with only 48 inhabitants in the Lüneburg Heath. The veterinarian was a frequent guest at my parents' stud farm and so I developed the desire to become a veterinarian at an early age. After graduating from high school, I studied veterinary medicine at the University of Veterinary Medicine in Hannover, with study visits to the USA, Australia and New Zealand. After graduation, I decided to do a residency in a classical rural practice in Bergen near Celle, before changing to an equine and small animal clinic between Flensburg and Kappeln. In 1991 I set up my own practice in Hamburg Bramfeld. From 2000 to 2012 I also worked regularly for the NDR television, among others in the program "Das!", and therefore could not refuse the offer to be in front of the camera again for this promising language project for my international colleagues.
Veterinarian Prof. Stephan Neumann
Always enthusiastic about flora and fauna, I studied veterinary medicine at the University of Veterinary Medicine in Hanover after graduating from high school, then earned my doctorate and finally also my habilitation. Today, I am the head of the small animal clinic at the University of Göttingen, where I also live. In the course of my professional career, I have trained to become a specialist veterinarian for small animals, a specialist veterinarian for laboratory diagnostics and a European specialist veterinarian for laboratory diagnostics (Dipl. ECVCP). I am also involved in professional politics in various professional associations at home and abroad.
Language teacher Annette
My name is Annette Baader. I am German and have been working as a teacher for German and English for more than 25 years. I grew up in Cologne and since my mother is Spanish, I was raised bilingual. I spent my childhood in a big family and a house full of all kinds of animals, which certainly shaped my passion for them. When I was twelve, I moved to the United States with my parents and siblings, where I attended an American school for two years. In 1979 we returned to Cologne. After graduating from high school, I fell in love with an Italian and moved to Rome on short notice, where I studied English and German language and literature. I still live in Rome today, am happily married and have three - now grown-up - children. Following my studies, I spent three years teaching English in the Italian army for an EU project. After teaching German and English in various Italian ministries, banks and private companies, I have been teaching in leading international pharmaceutical companies since 2012. Now the project "German for Veterinarians" has given me the opportunity to unite my love for animals and languages.
Language teacher Katrin
I am Katrin Damaschke and was born in Fulda. I have been living in Rome with my family for over 20 years. After high school, I was drawn abroad and worked as an au pair in Paris and completed the 'Cours de Civilisation Française' at the Sorbonne. After that I went back to Germany, to Bielefeld to be precise, for a two-year bank apprenticeship before I started my business studies in Passau. As part of the ERASMUS project, I went to Parma, Italy, for 1 semester, where I was able to improve my Italian. After my studies I went to Rome in spring 1998. I still live there today with my husband and my two daughters and teach German to different people. I am now very much looking forward to working with an international group of veterinarians, especially since animals are my great passion and everything related to them also interests me personally.
Live-session host Maria
I'm Maria Korves, originally from beautiful Schleswig-Holstein, and I graduated from veterinary school in Berlin in early 2022. I have always been passionate about other languages and try to learn and use at least a few phrases and words of the local language on every vacation. A common language is the key to getting to know a country and its inhabitants on a deeper level and to being able to respond precisely to one's counterpart. That's why I am very pleased to be involved in the technical and content-related side of the German course for veterinarians - and I hope it will be a great help for many colleagues to get a foothold here!
The language teachers Annette and Kathrin explain the language course to you